Kris Holmes, J82
matched $3,000
About
Lena Bruce, E92, and Anita Griffey, J90 had a tremendous impact on campus and were destined for further greatness before their lives were cut tragically short.
Anita passed away in a car accident as a senior at Tufts. She was committed to improving the Tufts community and served as the president of the African American Society her senior year. She was hard working, humble, and committed to addressing injustice at every turn.
Lena was murdered in 1992, shortly after graduating from Tufts. She was the only African American woman in her class to graduate with a degree in engineering. Wonderfully intelligent and committed to her education, she truly improved the lives of those around her.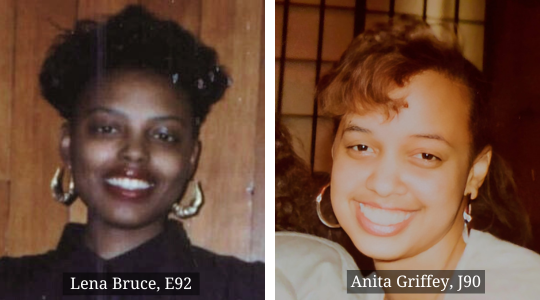 Founded to honor the legacies of these two astounding alumnae, the Bruce-Griffey Leadership and Diversity Internship Fund provides stipends to current students who are pursuing unpaid internships in public service. The intention is to lessen the financial obstacles and burdens students may otherwise face while exploring public service careers.

Our goal is to fully support two internships this summer. Every dollar you give will directly support an incredible young Jumbo (or two).

The official mission of the Bruce-Griffey Leadership and Diversity Internship Fund Committee is to help secure and award funds raised for the purpose of financially supporting Tufts students engaged in meaningful summer internships in memory of Lena Bruce, E92, and Anita Griffey, J90 through outreach, hosting of events, and other efforts that are extended on behalf of the Bruce-Griffey Leadership and Diversity Internship Fund.

Co-Chairs:

Andrea Nelson Meigs, J90
Leslie Keyes, J90
Francesca Grace Lujan, J93
Members:

Melissa Roy, J89

Andre Baynes, A91
Daniel Dadson, E91

Christopher Bennett, A93

Samantha Brewton, J93
Jennifer Turner Harrigan, J93

Blishda Lacet, J93

Kimber Smith, J93

David Carl, A96

Eric Walker, A97
Cayla Brown, A17
Andrade Hendricks, E17
Please contact tuftsfund@tufts.edu with any questions.

In the news:
Updates
Jumbo thanks! 🐘 🙌 We did it!
---
Thank you so much to all the generous Tufts alumni, friends, staff, and parents who stepped up to support not one but two deserving students as they pursue unpaid internships next summer!
If you did not get a chance to contribute yet and are interested in doing so, you can still support the Bruce-Griffey Internship Fund here.
We look forward to sharing information about the recipients with you and are so grateful for the collective impact you made.
157 days ago by
Leah Wittenberg
🎉 Thank you for your support! More matching funds still available!
---
Thanks to an outpouring of support from a community of Tufts alumni, friends, and parents, we have reached our initial goal!
A generous alumna has agreed to match gifts to the Bruce-Griffey Internship Fund, and there is still more than $1,200 of matching funds to unlock before June 30. Please spread the word about this exciting opportunity!
This summer's internship recipient, Olivia Volmar, A24, made a video about her internship this summer. You helped make this experience possible for Olivia, and we hope you'll continue to support more students through the Bruce-Griffey Internship Fund. Jumbo thanks!
181 days ago by
Leah Wittenberg
---
Most Recent Donors
---
---